Barbados has an incredible number of beaches for the size of the island. There are more than 70 miles or 112 kilometres of beautiful beaches in total. Many of the beaches are gloriously beautiful with white sands and warm crystal clear turquoise waters. None of the beaches in Barbados are private and you will therefore have a wonderful number of great beaches to choose from when you visit. Please note that topless bathing is forbidden in Barbados.
In general the beaches on the West coast of Barbados are calmer and perfect for swimming and snorkelling. The beaches on the east coast are facing the Atlantic Ocean and are therefore more choppy and breezy. This is where you might see surfers and Kite surfers but the seas are generally not suitable for leisure swimming and can be dangerous. The South east coast also has many beautiful beaches.
Our team at Villas Barbados have visited all the beaches on the island and are happy to provide you with a review of those we deem to be the best ones…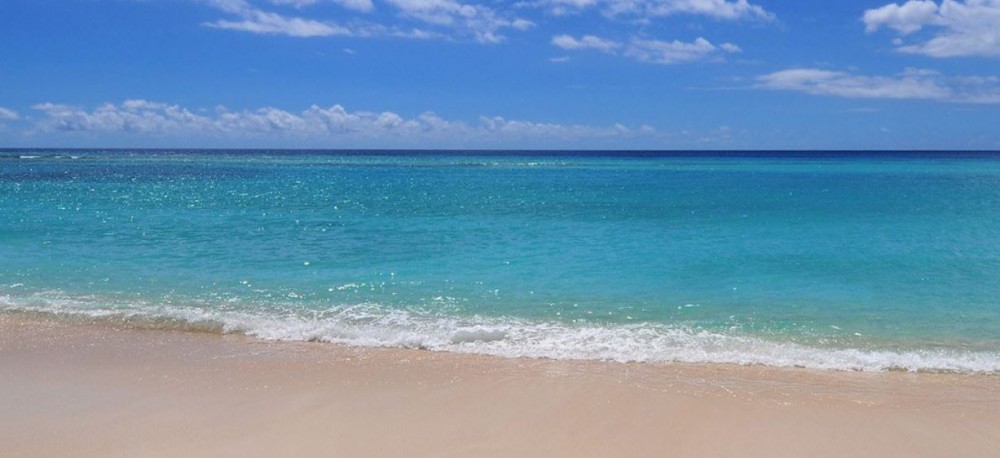 Paynes Bay Beach – West Coast
Paynes Bay beach is one of the most beautiful on the island. It is also where you will find some of our most popular Barbados vacation rentals are located including Old Trees, Smugglers Cove and Coral Cove. The beach can occasionally get quite busy but generally in front of Smugglers Cove and Old Trees, it is nice and peaceful. If you are not staying on Paynes Bay there is a public access path just beside One Sandy Lane. The beach is pristine with white sands and crystal clear aqua marine waters. One of the best things about Paynes Bay is that you can swim with turtles just off shore. If you are a strong swimmer, it is possible to swim over when the boats come in to feed the turtles and view these amazing animals at close range.
Sandy Lane Beach - West Coast
Sandy Lane beach is without a doubt one of the most beautiful of beaches in Barbados. It is a perfect crescent shape stretch of beach with fine golden sands and calm crystal clear waters that are perfect for swimming and snorkelling. The beach is perfectly maintained and benefits from the fact that it is sheltered by a small bay. As a result the water is almost always calm with very little undertow.
Sandy Lane beach is also synonymous with luxury due to the fact that the only properties on the beach are the very luxurious and famous Sandy Lane Hotel and a smattering of beautiful luxury villas such as Landmark House and Landfall which we at Villas Barbados represent. All the properties including the Sandy Lane Hotel are relatively hidden behind copses of beautiful ancient mahogany and manchineel trees. It is possible to have lunch at Sandy Lane but reservations are essential and our concierge department at Villas Barbados will be delighted to assist you with that.
In low tide, you will be able to walk from Sandy Lane Beach all the way to Paynes Bay beach in a southerly direction. Even though like all beaches in Barbados, Sandy Lane Beach is public, it is generally very quiet as the only access is via one of the beautiful villas, Sandy Lane Hotel or by foot from Payne's Bay.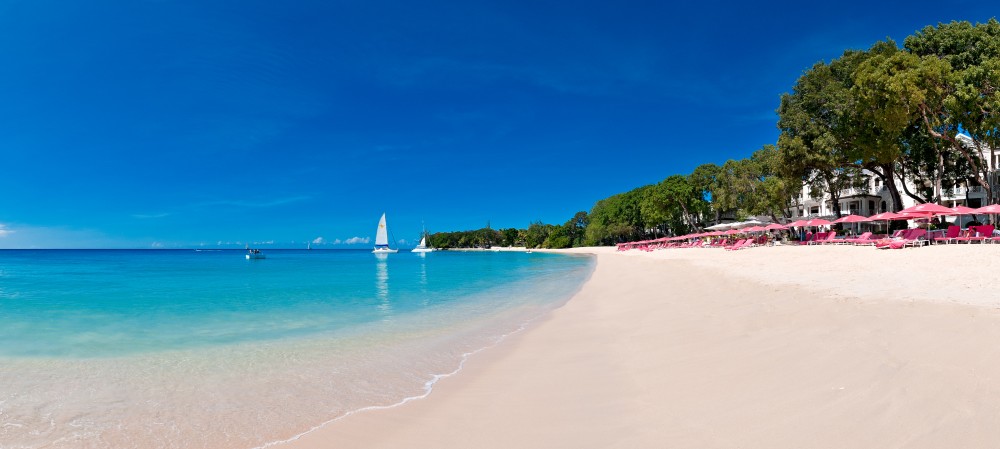 Mullins Beach – West Coast
Mullins Beach is located north of Holetown and south of Speightstown. It is one of the most popular and most beautiful beaches located on the west coast. It is a picture perfect stretch of beach. Many of our villas located at Royal Westmoreland have complimentary beach club membership at Mullins. You will have a designated area on the beach with sun beds and exclusive beach service. One of the most popular beach bars and restaurants is located right on Mullins Bay. Mullins Beach bar is a legendary spot for both locals and visitors. They serve great food in a casual laid back atmosphere. It is also one of the best spots on the island of Barbados to enjoy a rum punch. Some of our most popular villas are also located on Mullins Beach such as Easy Reach and Sunset Reach.
Gibbs Beach – West Coast
Gibbs Beach adjoins Mullins Beach. It is much quieter then Mullins and there are no sun beds for hire here but it is a great spot for lovely peaceful swimming. There is also plenty of natural shade on the beach so need for a sun umbrella. There is sometimes a steep shelf in the sand whilst getting into the sea so small children might need some assistance. Some of our most exclusive villas are located on Gibbs Beach such as Westhaven, Greensleeves, Belair, Clearwater, High Trees, Latitude and Waverley. Access to the beach is either from Mullins Beach or via a small public walk way half way along the actual beach.

Alleynes Bay – West Coast
One of our personal favourite beaches at Villas Barbados is the beach at Alleynes Bay. It is much lesser known then Paynes Bay and Mullins Beach but it one of the most beautiful of all the beaches we have come across in the Caribbean. There is virtually no reef or rocks on the beach making it the perfect beach for a swim. The beach is also very level so easy for children or less confident swimmers to get in and out. The Lone Star Restaurant is located directly on Alleynes Bay as well as the legendary Ju ju's beach bar and restaurant. Some of our favourite Barbados Villas are also located on directly on the beach including the Brand new Footprints Villa and the Beach House at Lone Star comprising of the Lincoln, Shelby and Corvette suites.
The Garden and Heron Bay Beach – West Coast
Although no beaches in Barbados are officially private, the beach located in the Garden area on the west coast of Barbados is virtually private. The area is totally residential and boasts some of the islands most magnificent homes. One of these is our most popular Barbados Villa – The Dream. The beach here is lovely, there is some reef inparts but there are also lots of beautiful sandy areas with very calm waters for swimming.
Holetown and the Boardwalk – West Coast
The beach at Holetown is another lovely spot. In low tide, it is possible to walk as far as the Folkestown Marine Park and Museum which is one of the best spots on the island for both snorkelling and diving. One of the lovely features of Holetown beach is the board walk which runs alongside it. It is a great spot for walking at sunset and sunrise. There are several excellent restaurants along the beach including Tides Restaurant which is one of the most popular on the island. For lunch, The Beach House is a great spot. Our very popular Villas on The Beach properties are located on Holetown Beach.
Batts Rock and Prospect – West Coast
This is a superb stretch of beach with plenty of natural shade. There is a public access to the beach at the end of the Spring Garden Highway. If you are not staying directly on the beach the Cockspur Beach Club at Brighton Beach has beach chairs and umbrellas for rent.
Speightstown Beach – West Coast
Speightstown Beach is one of the hidden gems of Barbados. The beach is pristine with calm waters and beautiful seas. There is a newly constructed walkway which means you can now walk all the way from the beach as far as the Cobblers Cove Hotel. There are several really good spots to stop for lunch along the way too. Juma's is one of our favourites. It is casual and relaxed with good food and a lovely view.

Crane Beach – South East Coast
Crane Beach is situated on the South East corner of Barbados. It is located where the Atlantic meets the Caribbean and as a result, the swell can be much higher here then on the East coast. But Crane beach is breathtakingly beautiful. Like all beaches on the island, it is a public beach and you can access it either via the Crane Resort or a pathway at the roundabout. One of the best views of the beach is from the L'Azure Restaurant at The Crane where you will also find some lovely food. If you would prefer something a little more casual, then Cutters of Barbados is a great gourmet deli further down the beach. It is possible to rent sun beds, beach chairs and boogie boards on the beach itself.
Bathsheba and Tent Bay – East Coast
This is one of our favourite spots on the East coast of the Island. The beach is stunningly beautiful but beware that it is not a beach for swimming as the surf is almost always very high and the currents are very strong. If you feel like cooling down, it is possible to take a dip in the rock pools around the beach. The Atlantis Hotel has a great restaurant and the views from here are incredible.
Carlisle Bay- South Coast
Carlisle Bay is one of the most popular beaches on the South coast of Barbados. It stretches all the way from Bridgetown to the Hilton. It is a wide beach with very calm waters and plenty of restaurants to choose from for lunch or dinner. One of the most
popular bars is located here especially great for the younger generation called the Harbour Lights. It is one of the best beaches on the island for swimming and you will often find a group of local long distance swimmers training here especially on a Saturday morning.
Hastings Beach – South Coast
Hastings is another very popular south coast beach. There is a boardwalk along much of the beach which stretches from Accra for a couple of miles to Hastings. You will see many locals walking along at sun rise or sun set. There are plenty of restaurants and bars to choose from here including Tapas, 39 Steps Wine Bar, Fusion, Bert's. Brown Sugar, Lucky Horseshoe and Churrasco do Brasil. Our personal favourite restaurant at Villas Barbados is Champers. Both the location and the food are really excellent.
Dover Beach and Sandy Beach – South Coast
These are two more lovely expanses of beaches located on the south coast of Barbados. The beaches here are much wider than the West coast beaches and the waters are equally calm. The swimming conditions close to St Lawrence Gap are generally the best. There are plenty of opportunities to participate in water sports here. You will also be able to rent sun chairs and umbrellas for the day.
Accra Beach – South Coast
Accra Beach is one of the most popular beaches on the south coast. There are lifeguards on duty a lot of the time and there are excellent facilities such as showers, changing areas, parking and plenty of water sports. It is also possible to rent chairs and umbrellas. For food, there are some beach stalls where you can get snacks but we highly recommend a picnic.
Miami Beach – South Coast
Miami Beach is located close to Oistins on the south coast. It is another lovely and very popular beach especially on the weekends. The swimming area is more or less divided in two by a groin. On one side it can be quite choppy but on the other, the waters are almost always crystal clear and clam.