One of the best things about Barbados is the amazing selection of restaurants it has to offer. It is widely acclaimed as the restaurant capital of the Caribbean and for good reason. There are more ocean side Barbados restaurants than any other Caribbean island. But there is also a great selection of beach bars, bistros, rum shacks and authentic roti houses.
Some of the most popular food in Barbados are Mahi Mahi or Dorado which is also referred to as Dolphin. But don't confuse it with Flipper. It is a completely different fish. It is a white flaky fish and really delicious. Other recommended catches are Barracuda, Red Snapper, Flying Fish, Tuna and locally caught shrimp and lobster.
During the high season, many of the fine dining restaurants are heavily booked so it is very wise to make advance reservations. Our complimentary pre arrival concierge department will be happy to help you with all your dining requirements. We have also sampled many of the local restaurants and are happy to give you a review of some of our firm favourites.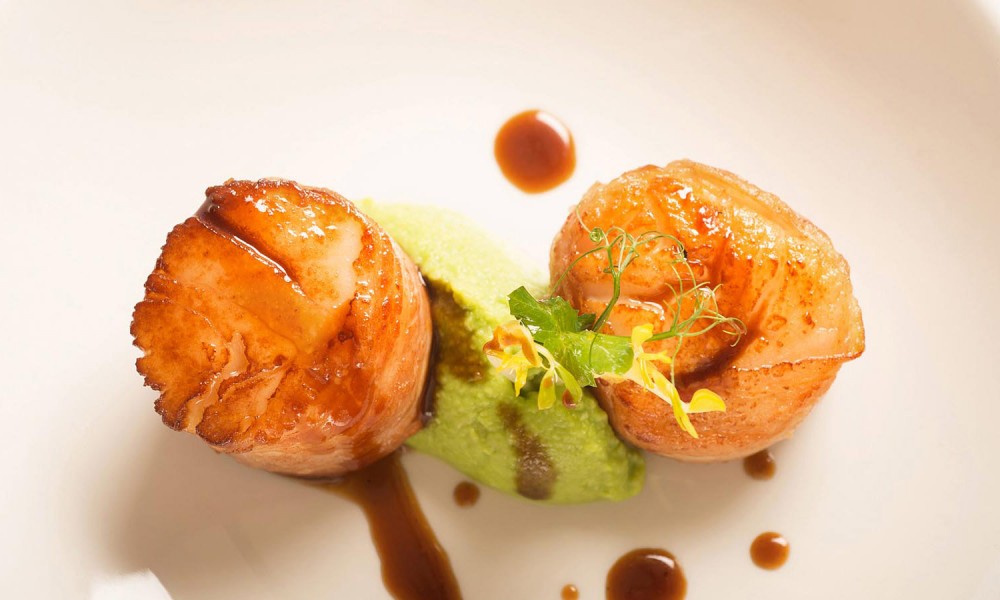 This sensational restaurant is now under new ownership and is being completely renovated. Due to re-open in August 2022, The Cliff will be super modern with a large indoor air-conditioned section, as well as the original terrace overlooking the Cliff. The venue will be ideal for large family gatherings or parties as they will have a large function area.  As with the original Cliff restaurant, the use of huge flaming torches enhances the atmosphere and the sea is beautifully illuminated with lights which attract huge tarpons that swim elegantly in front of you as you are eating the most exquisite food.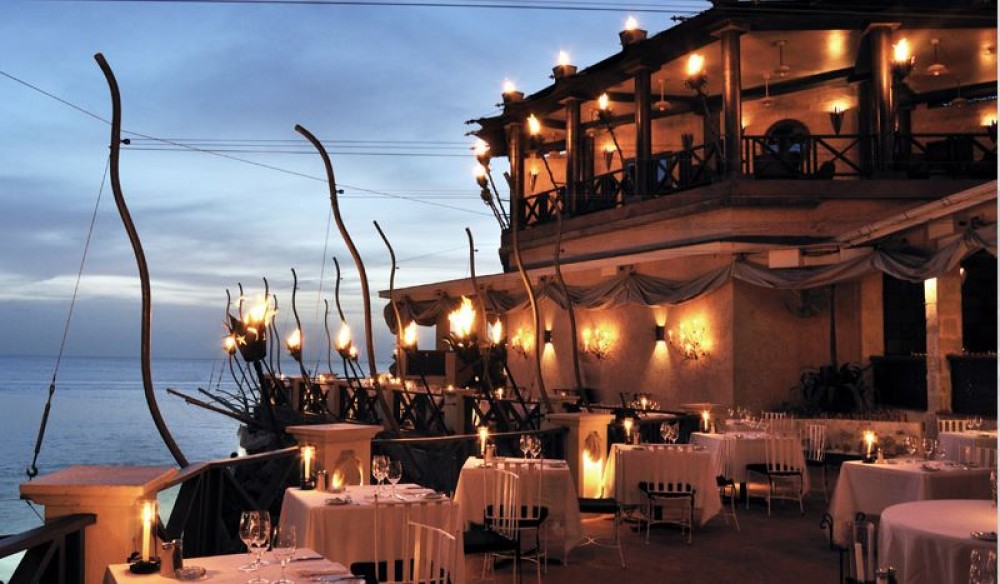 Located right next door to the Cliff and built very cleverly over four levels with each level facing the sea. The food is excellent and it's also a very cool and trendy place just to pop in for a drink before or after dinner. They also have live music on many nights especially at the weekends.  Also open for lunch and it is perfectly fine to go casually dressed in a tee shirt and shorts.
Tides is another one of our personal favourites. It is located right in the centre of Holetown directly on the beach. It was completely modernised this year and the results are fabulous. The interiors are now much more contemporary than they were and the bar is super cool for a pre dinner drink. They have also opened an air-conditioned fully glassed area in case you prefer not to sit in the tropical heat but still enjoy the fabulous views. The food is always excellent. We had the Sautéed Spiced Jumbo Shrimp and Thai Crab Cakes followed by the Blackened Tuna and a Trio of Crème Brulee.
Tides also houses one of the best art galleries on the island. As you enter the restaurant there is a courtyard and the art is on display both here and in the bar. They feature a lot of the best local and Caribbean artists as well as some beautiful semi precious jewellery.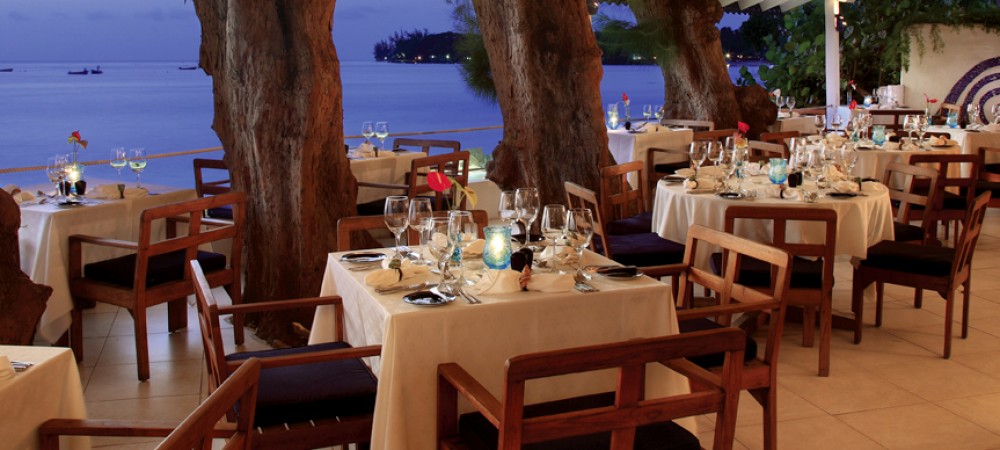 Lone Star Restaurant – West coast
Lone Star has been open now for 14 years and it is always spectacular. It was updated two years ago and has a fabulous beach front setting. It is wonderfully elegant and at the same time very relaxed. It is open for breakfast, lunch and dinner and also has a lovely bar which is ideal for either a pre or post dinner drink. Some of our favourite items on the menu are the Lobster and prawn salad, the Balti Chicken Tikka Masala and the Lone Star Dame Blanche.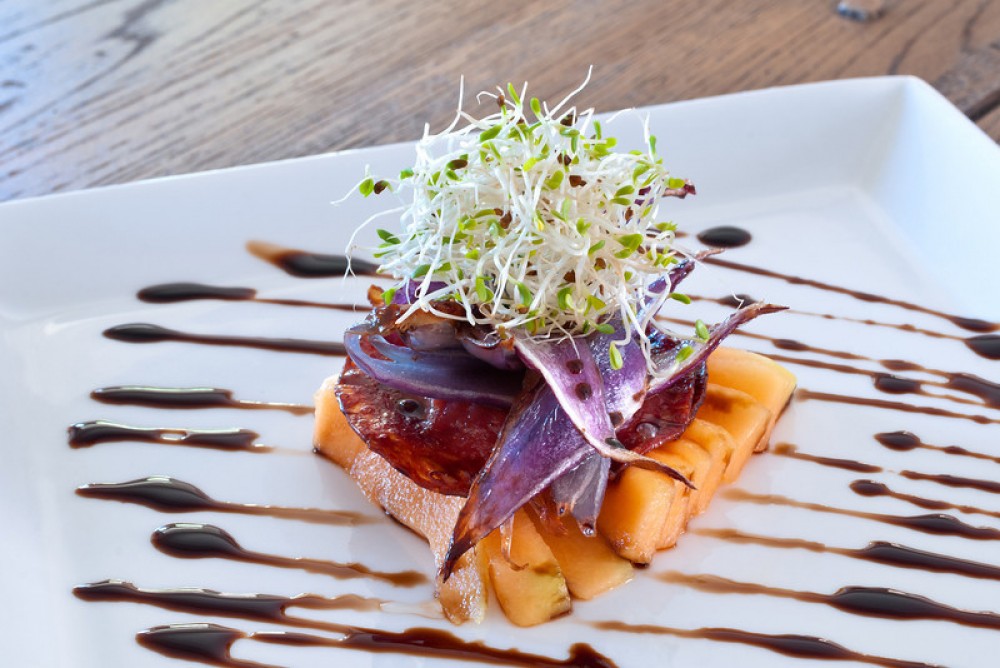 The Local – West coast - Speightown. 
The Local is an up and comer that is generating a lot of buzz on the island. Primarily offering farm to table, and healthy food options, this restaurant uses locally sourced ingredients to create delicious meals. Housed in an 1800s Speightstown warehouse, and sitting on one of the most beautiful beaches on the island, you could not ask for a more authentic dining experience.  The Local's rum bar also offers the best of the best when it comes to rum and cocktails. But, if you wish for a more chilled and relaxed option, you can also enjoy a coffee and some of their delicious baked goods.
Fish Pot – West coast above Speightown.
The fish pot is located further north on the west coast just past Speightstown on the coast. It has a fabulous setting overlooking Six Men's beach and bay. It is more relaxed and down to earth then some of its counterparts and the food is always great. We love it for both lunch and dinner and the atmosphere at both times is quite different. They serve a lot of locally caught fish infused with local herbs, spices and fruit which create really exciting flavours. We particularly loved the Seared Scallops and the A Hai Tuna. If you are staying at one of our most popular resorts Saint Peters Bay or Port Ferdinand it is possible to take a water taxi to the restaurant which is fun.
Sea Shed (casual) – Mullins – West coast
Sea Shed is one of the island's newest beachfront restaurants located on the fringes of Mullins Beach in St Peter. It is one of the most happening restaurants in Barbados, boasting a fantastic buzzing atmosphere and wonderful food.  The views of the Caribbean Ocean and powered white sands from here are simply breathtaking. Open 7 days a week, this tropical eatery opens at 10 am and the lunch menu starts from 11. Guest have the choice of eating on the upper deck or stepping onto the beach where seating and sun loungers are plentiful.
Bomba's Beach Bar (casual) – Turtle Bay – North West
Located north of Mullins Bay in the parish of St Peter, Bombas is a great casual and down to earth option for either lunch or dinner. The food is always fresh and the local fishermen deliver their catch each day. It is colourful with electric music and good service. There is a small boutique here which features colourful sarongs and jewellery from Tanzania.
Jumas (casual) – Alleynes Bay - West Coast
Jumas has a great location just two buildings north of Lone Star, and is ideally located directly on the beach and ocean. It is run by the owner Mark and his wife Jules and serves a combination of Thai, Bajan and French dishes. It is open for breakfast lunch and dinner.
Bajan Blue at Sandy Lane – West Coast
This is another firm favourite of ours. It is the more casual restaurant at Sandy lane. It has a fabulous location right on the beach. It is open for breakfast, lunch and dinner each day but our two favourite times to go are either for the Sunday Brunch or on the Caribbean night which takes place each Tuesday. Both occasions offer a spectacular buffet with the most impressive choice of food. After dinner on Tuesday, there is a great Bajan floor show followed by live music and dancing.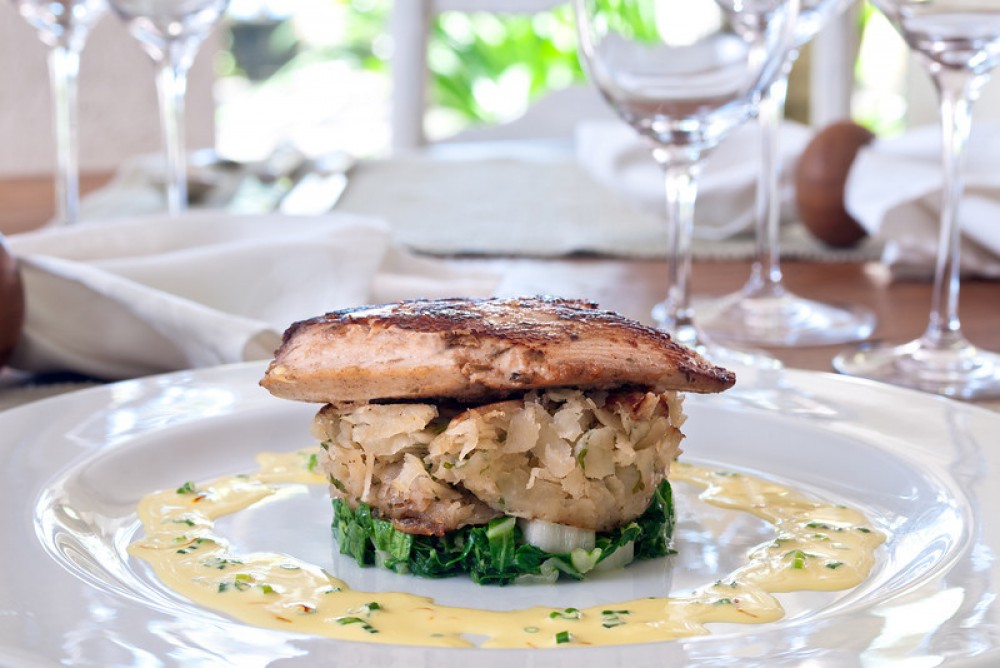 L'Acajou is a lovely restaurant if you are looking for fine dining and want something very special. The atmosphere is very magical and very romantic. The restaurant is on the first floor with views of the ocean. They also have an amazing wine list which even the most knowledgeable wine buff will be impressed with.
Cala Roca – Prospect – West Coast
Serving a variety of delicious dishes and offering an international menu, this incredible new restaurant provides innovation in their food, with a hint of Spanish flavours. Cala Roca boasts a wonderful dining experience, along with magnificent views of the West Coast of Barbados.  As well as offering exceptionally tasting food, Cala Roca is renowned for its cocktails and drinks selection. The in-house mixologists will cater to any flavour or preference you desire, while also creating a drink to compliment your meal. Enjoy elegant music, exquisite service and wonderful views at Cala Roca.
Nishi Restaurant – Holetown – West Coast
Nishi is a relatively new addition to the gastronomic offerings in Barbados. The menu is very different to anything else in Barbados. It has a mixture of Asian and Caribbean cuisine served in an informal yet sophisticated atmosphere. There is also a great Sushi bar upstairs. The lovely thing about Nishi is that you will have a choice of eating indoors or outside under the stars....something which is rare to find in most Asian restaurants around the world. It is open 7 days a week for dinner.
Lobster Alive (casual) – Bridgetown
Located at Carlisle Bay, just south of Bridgetown, Lobster Alive is quite a legendary spot in Barbados. It is very casual and laid back. If you wish, you can pick your own lobster which you can then request to be cooked in a variety of different way. We chose the Lobster Thermidor which was delicious. Lobster Alive is open every day for lunch and dinner except on a Sunday when they have lunch only. If you like jazz, this is the time to go as they have live music.
Relish Epicurea (casual) Limegrove Shopping Centre Holetown
Relish is both a deli and a café offering a variety of fresh food and wines. There are lots of healthy options and you can choose to either eat in or take away.
Lime Bar and Restaurant (trendy) Limegrove Shopping Centre Holetown
The Lime Bar is one of the trendiest and coolest places to hang out in Barbados right now. It is located in the Lime Grove Lifestyle Centre and is cool and edgy. They have regular live entertainment. For food, you can choose to have tapas style food or full menu. It is open every day from 10am to late!
Drift Ocean Terrace Lounge (trendy) Holetown centre beside Tides
The Drift is located right in the middle between Tides Restaurant and The Beach House Restaurant. It is one of the newest and chicest places on the West Coast. They have a great cocktail menu and also a good selection of fine wines. The drift also has an art gallery selling both local and international art. For food, the Drift serves small bites and on the first Thursday of each month they do the Drift Bento Box Extravaganza. We highly recommend a visit for either pre or post dinner drinks.
Just Grillin' (casual) Chattel Village Holetown
Just Grillin' is one of our favourite places for quick casual and healthy food. The menu normally features at least 5 different types of freshly caught and cooked fish. Other offerings include shrimp, steak, ribs, chicken and burgers. You can get a selection of different side orders such as salad, grilled vegetables and potatoes as well as Bajan Rotis and wraps.
Paul Owens at The Beach House (casual) Holetown beach side
Renowned chef, Paul Owens, formerly the Executive Chef at The Cliff Restaurant for over 25 years, has created The Beach House. Along with a wonderful and dedicated team of chefs and in-house staff, this fantastic restaurant has become one of our new favourites.  Boasting a wonderful oceanfront location, this restaurant offers some of the most stunning ocean views which you can enjoy while indulging in the creative and inspired meals you will be served here. The Beach House is quintessentially Caribbean and will provide you and your guests with a unique and superb dining experience.
Il Tempio – West Coast Fitts Village
Il Tempio is the only totally authentic Italian restaurant in Barbados and was a firm favourite of Luciano Pavarotti when he used to visit the island. It has a wonderful location right on the beach in Fitts Village south of Holetown.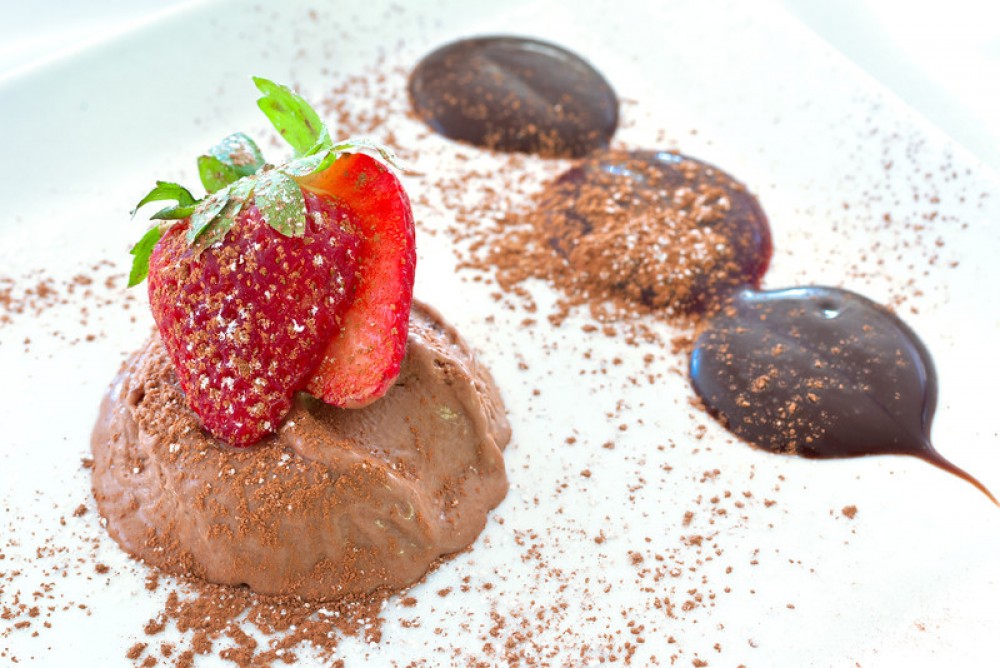 Champers, Skeets hill, Christ Church South Coast
Definitely one of the premier restaurants on the South Coast, Champers offers really delicious food and good value to visitors and local clientele. It's set away from the main road, literally right on the water's edge. We were lucky enough to be seated at an oceanfront table and we were all mesmerised by the pristine turquoise water and the cooling sea breeze. Champers is owner run & it shows – the staff were wonderfully attentive and took great time explaining the specials. I loved the Parmesan-crusted Barracuda. Lunch is relaxed but really efficient and there's also an air conditioned dining room upstairs. Dinner has a more romantic feel to it and it's good to know there's a private supervised car park. Also there's a super art gallery featuring Caribbean art called "On the Wall"
La Cabane – Batts Rock – Near Bridgetown
La Cabane in Batts Rock is a new and very trendy addition to the Barbados lunch scene.  It has great south of France vibe, so it didn't surprise me one bit when the owner said he is originally from St Tropez. The restaurant is relaxed and a popular local hang out.  Make sure you bring your towel, so you can go for a lovely swim on Batts Rock beach which is just gorgeous. No need to wear shoes!
The Atlantis is one of the most legendary spots in Barbados. It has the same owners as the Fish pot and Little Good Harbour. It has the most breathtaking location in Bathsheba overlooking Tent Bay. It is worth visiting just for the scenery but the food is also excellent. They offer a buffet on Sunday and Wednesday and the rest of the week there is a really good authentic Bajan menu.
L'Azure – Crane Resort South East
L'Azure was once described by Zagat as "Heaven on Earth". And for good reason, the view from the terrace to Crane Beach is totally breathtaking. The beach itself was also voted amongst the top 10 in the world by the Lifestyles of the Rich and Famous. For this reason alone, we think it is a must visit for lunch whilst you are on the island of Barbados. They also do a great Sunday Brunch at L'Azure called the Sunday Gospel breakfast. Here you will find live performances and steel pan as well as a great buffet with a huge selection of food.
To book one of these Barbados Restaurants, please contact our concierge Rowena for more information.