Beachfront Villas in Barbados
Beachfront Villas in Barbados- Villas Barbados' Top Selection
Ah, Barbados!  The quintessential Caribbean destination for the discerning traveller.  In more simple terms, it's paradise!  From any of our beachfront villas in Barbados you can drink in the palm fringed, white sandy perfection that sets the standard for beach holidays anywhere in the world.  Warm turquoise waters entice visitors to dive into the clear blue or potter gently along the shoreline.  There isn't a 'best beach holiday' list in the world that doesn't at onetime or another feature the heavenly Barbados.
What makes Barbados so special?
It's not a huge island so that creates a sense of containment – nothing is more than a drive or sail away.   Yet for all of its pretty modest proportions, it has mile for mile the most impressive collection of beaches, divine resorts, restaurants, world-class golf, sailing, mesmerising Bajan culture, designer shopping and much more.
As a member of the Commonwealth countries governed by Queen Elizabeth II, this island nation has enjoyed its independence since 1966.  It still retains the quaint historic architecture and buildings that hark back to its time under direct British rule as well as keeping the parish names created by the early settlers.  Part of the great work this island nation has achieved since its independence is retaining the very fabric that constitutes the idealised and perfect Barbados experience.  The beaches are clear and pretty.  Developments along the coastline offer five star luxury beachfront villas for rent in Barbados interspersed with tasteful resorts and private residences. All the beaches are public meaning that you won't find any part of the 70 miles of Barbados coastline fenced or off-limits to you. 
Regardless of all of this, it's still possible to find a quiet corner on a lovely beach for a stroll at dusk or dawn.  The traditional and conservative vibe on the island prohibits topless sunbathing which, I feel, adds something rather refined to the overall experience.  Never fear, if you are keen to be biscuit brown all over after your visit to Barbados, simply allow Villas Barbados to introduce you to one of our perfect private Barbados beachfront villas where you can enjoy a more au naturale sunbathing experience!
With this in mind, let me show you a short list of some of the incredible luxury villas we offer the discerning guest in Barbados:
The Dream, The Garden, St James
The Dream is the epitome of luxury and location!  Set in The Garden area of Barbados's Platinum Coast, this spacious property is completely private with a gorgeous pool, upstairs terrace with dazzling views but is a mere 20 leisurely paces to the beach.  It offers a team of staff, air conditioning, sophisticated furnishing and comfortable accommodations for up to 10 guests.  Each day you can embrace the ambient Barbados weather with a delicious breakfast.  Think pancakes with fresh locally sourced tropical fruits, rich coffee …. All to the sound of the murmuring sea.  Lazy days by the pool can be interspersed with a stroll to the nearby and totally cool Lone Star restaurant for a long lunch.  Add to this a bit of exploration of the nearby capital of Bridgetown for some shopping or history.  One perfect day will simply flow into another.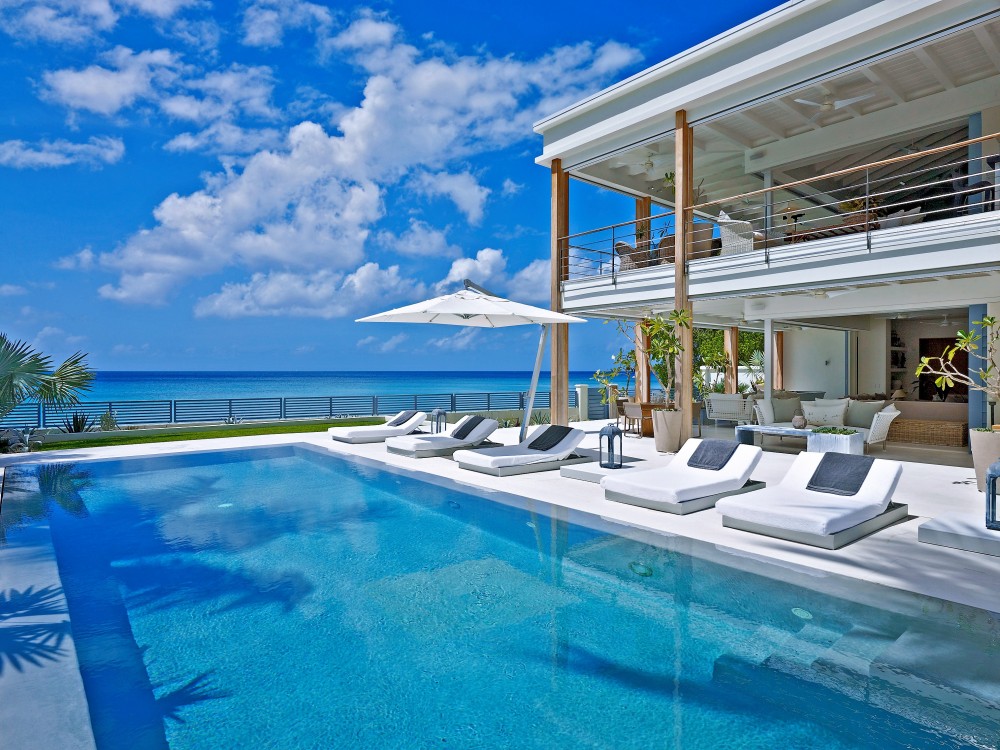 Footprints, The Garden, St James
Footprints just on Alleynes Beach is a glamorous villa presented in shades of white, cream and soft natural tones.  The restful interior palette acts as the perfect counterpoint to the lush blue pool, green gardens and the vast ocean beyond.  With comfortable accommodations for 10 lucky guests your personal chef will arrange your meals and dining timetable to suit your schedule.  Within easy access of the lovely Holetown or the nearby internationally-acclaimed golf at Sandy Lane, there is much to lure you away from the perfection of your lovely poolside terrace.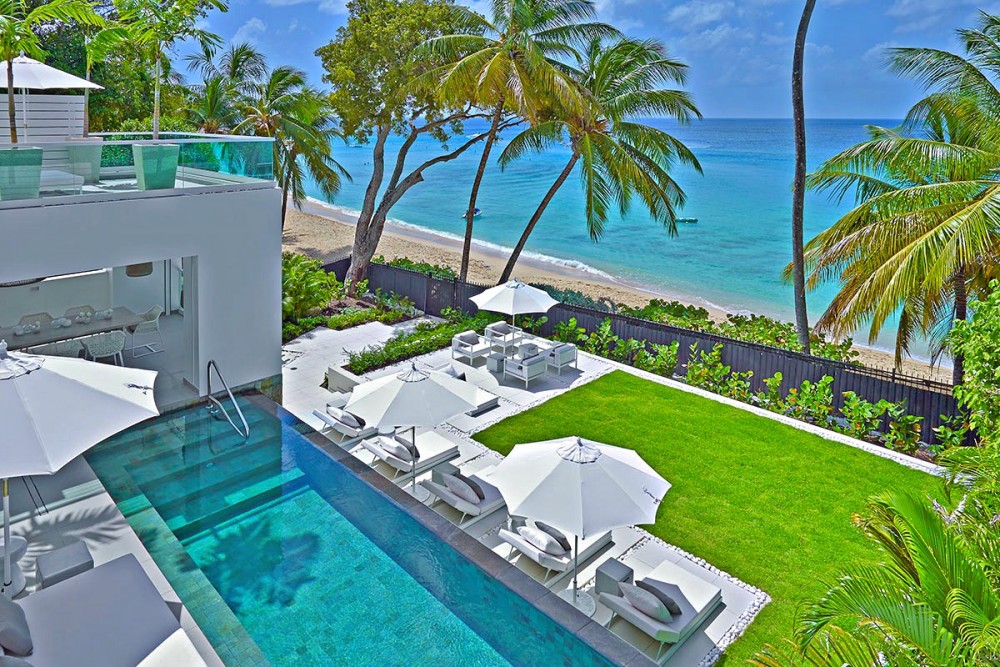 Godings Beach House, St Peter
The ultra-elite property that is Godings Beach House, offers up to 10 guests a virtual estate spread over 1.2 acres.  Green rolling lawns sweep down from the pool and terraces to a stretch of beach that sees very few visitors.  This newly built property with over 13,000sqft of living and bedroom space has vast glass walls that capture the changing tones of the Barbadian sky as the sun travels in an arc to set gloriously in front of your terrace.  This gated villa comes with a team of friendly staff who build their services into the tempo of your vacation.  With your own cook on hand, you might choose to enjoy barbecues on your terrace, lazy lunches or pack up a picnic for al fresco dining on Codings Beach.  The very finest of finishes with nothing overlooked best describes this spacious and divine property – one of the luxury beachfront villas Barbados that's raising the bar for villa splendor across the island.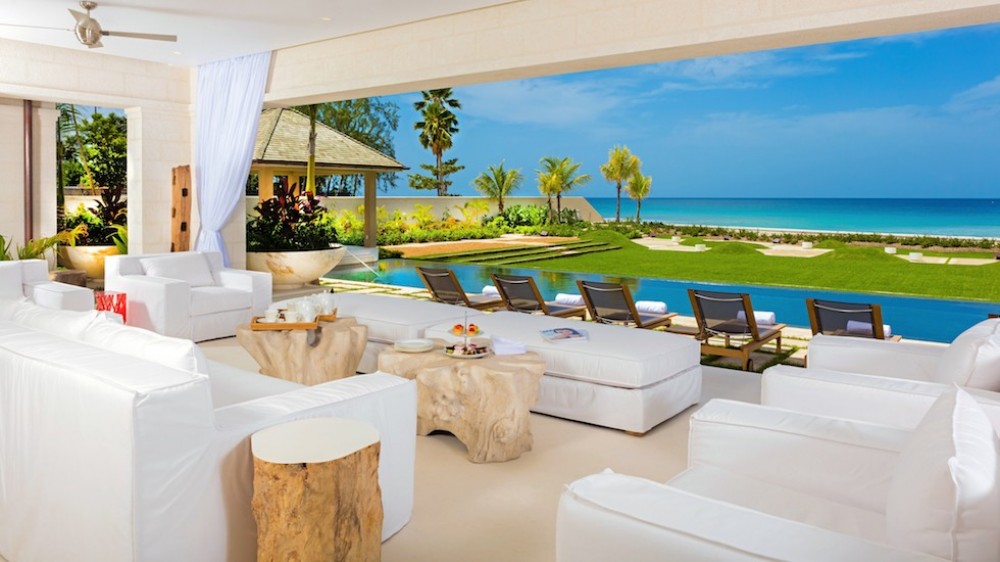 Landfall, Sandy Lane, St James
Sometimes you just want that authentic Caribbean villa experience.  The traditional Landfall, crafted from the soft warm local stone with its arches and open porches seems to deliver that true beach-comber experience.  For a family vacation there's no where quite so perfect.  The spacious gardens and pool area allow guests to relax in quiet spaces.  The mature and lush trees and flowers provide a welcome privacy and shade where some colour full birds will swoop in and serenade you as you doze on your lounger.  The magnificence that is Sandy Lane beach awaits as you step beyond the perimeter of your villa refuge.  The swimming and snorkelling conditions off Sandy Lane are ideally suited for families.  There's a really brilliant walk you can take all the way to Paynes Beach at low tide or the much shorter stroll to the world-renowned Sandy Lane Resort.  This beach has very few villas so you will find yourself in a rather quiet corner of the most celebrated part of this wonderful island.  With a team of staff who've overseen the running of Landfall for years, you will be welcomed and cared for with genuine warmth and dedication.
Greensleeves, Gibbs Bay
Sitting in the middle of an 11 acre site is one of Barbados's villa treasures.  Greensleeves is a sprawling luxury villa residence built in the midst of beautiful gardens, curved around a large pool and terrace area.  With accommodations to comfortably host 18 guests, this compound could be the very perfect setting for a family event like a wedding, anniversary or significant birthday.  Imagine your extended family sitting down to one of the finest dinners on the island of Barbados, created to your tastes by your very own celebrated chef.  The location of Greensleeves, sitting on a slightly elevated promontory between the gorgeous Gibbs Beach and Reed's Bay – considered two of the best beaches on the island - offers guests two incredible beach experiences.
The pretty Japanese gardens that flow into the larger landscaped space means there is lots of exploration within your private villa grounds.  The décor is traditional Caribbean – fresh white linens interspersed with colourful splashes of tropical colour here and there.  Lots of plush comfortable seating inside and out means there are any number of fabulous areas in which to recline to listen to the sounds of nature in the high palm trees all around.  In between all of the wonderful dining your staff will provide for you, there is a spacious and full-equipped wellness centre where the more disciplined can establish a regime to offset those rum cocktails!  Greensleeves is very unique.  The space that it occupies in such a sought-after location makes it just about the most desirable beachfront villa in Barbados.
The Villa at The St James, Payne's Bay Beach
If you want to have unimpeded beach and Caribbean views from every room in your villa then The Villa at The St James is the destination for you.  Part of one of the newest developments along this stretch of the magnificent Payne's Bay Beach, this lovely villa can comfortably accommodate 10 guests who can enjoy the privacy of villa life on the fringe of one of the most attractive beaches in Barbados.  This is an entirely ground floor unit so ideally suited to families who like to keep near to one another.  The interior design is a combination of natural stone tiles, polished marble with contemporary and luxurious soft furnishings.  The light simply pours into this villa and the folding glass doors allow guests to literally open the villa to the sights and sounds of the ocean.  Payne's Bay Beach offers safe swimming conditions with the warm waters of the Caribbean suited to snorkelling.  For the intrepid, there is an opportunity to swim with turtles nearby.  These creatures seem blissfully unperturbed by us joining them for a dip beneath the blue.  Strolling at sunset along the beach to the nearby Sandy Lane Hotel to enjoy a cocktail or dinner has to be one of the most romantic highlights of any vacation at The Villa.
Milord, Fitts Village
This three-bedroomed, stand alone villa, commands the most envious position right on the beach.  Each of the equally-sized bedrooms at Milord offers guests a quiet reprieve from a fun-filled day on the beach.  With a private terrace and plunge pool, you can enjoy the proximity of the beach but within your own private boundary gate.  Very few of these traditional self-contained Bajan villa properties exist and none in such a sublime location.  You can enjoy the very best of Barbados from this quiet base and be cared for by the excellent housekeeper, cook and other staff.  Sipping a delicious rum punch on your terrace each evening will round off a perfect day in yet another lovely beachfront property.
Foster's House, Lower Carlton
The perfection that is Reed's Bay Beach is host to the lovely Foster's House villa.  With four gorgeous bedrooms each opening onto its own terrace, this spacious property has the feel and style of a traditional colonial villa.  Lovely white exteriors with a distinctive tiled roof, open inwards to comfortable living spaces that capture the amazing views over the pool and onto the Caribbean beyond.  A short walk will find you on Reed's Bay Beach where you can enjoy swimming, snorkelling and other water sports.  An ideal beach for a long walk or an early morning jog.  Just looking along the long sweep of sandy shoreline fringed with palm trees creates that joyful experience that only a Caribbean vacation can deliver.  The villa team have been caring for guests at Foster's House for years.  They allow you to enjoy every aspect of relaxation – even with a stimulating work out or two in our own fitness studio.  You can spend your day exploring the coastline returning to a spicy barbecue accompanied by some of the great local beers.  Long leisurely apres-dinner drinks will accompany that magical night sounds of crickets and cicada.  There is such a sense of privacy in this, one of our favourite luxury beachfront villas Barbados.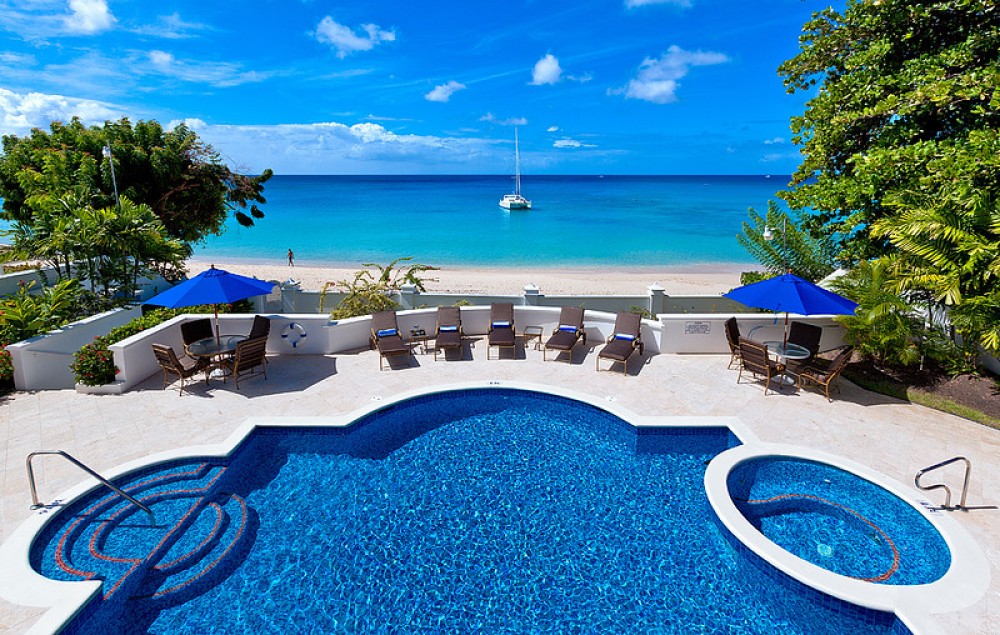 Conclusion
At Villas Barbados we've built an award-winning business identifying the perfect villa rental properties around the world that will deliver the luxury dream vacation to our long list of happy clients.  We started out decades ago, focusing on vacation rentals in Barbados because it was abundantly clear to us that the epitome of a luxurious, Caribbean vacation could be found on the perfect sandy shores of this remarkable island.  Over the decades, we've curated a list of villas in varying sizes and locations around Barbados.  We are confident we have the very perfect villa waiting for you.  Our sales and concierge teams have visited each property so can expertly identify the key features of any property and how that property will ideally suit you and your fellow travelers.
Barbados is heaven on earth.  It lures people of all ages and nationalities to its shores each year.  Once your barefoot steps onto one of the glorious beaches on this island and you see the play of silver sunlight over the turquoise sea, you will understand why this island paradise deserves to wear the crown - Queen of the Caribbean.