If you are a keen golfer or perhaps one of the less enlightened (like me), you should really consider dipping into the glorious Barbados golf scene.  Rarely does weather and scenic views coupled with incredible golf course design, combine so magically for fans of the game.
Introduction
There seems to be a bit of debate in history circles about who actually invented the game of golf.  The Dutch have a lot of evidence to say that the game originated with them but it seems the Scottish have somehow won the day and have claimed the game as their very own invention.  Looking at the history of Barbados, with a good strong strain of Scottish heritage running through its past, it seems rather fitting that any article on golf in Barbados would tie in with the great and glorious history of the game.
Some very amusing stories abound.  For instance, the game was banned by King James II of Scotland citing that the playing of it distracted men from the more useful pastime of archery practice.  As Scotland had a long and troubled history with its closest neighbours, the English, it seems understandable that King James was keen to have his gentry skilled in the art of war rather than improving their handicaps!  Of course, the whole handicap system was a much later invention.  It is the most impressive invention of any sport all as it allows players of all standards to compete as equals.  How brilliant is that?
But enough preamble.  Let's talk about some of the incredible Barbados golf clubs.  The first bit of good news is that Barbados is home to five PGA Standard golf courses.  These are the world-renowned Sandy Lane's The Green Monkey Course, Royal Westmoreland, Sandy Lane Country Cub, Barbados Golf Club and Apes Hill.
The brilliant topography of Barbados and the location of these courses ensures dramatic views over hills, the ocean and tropical forests.  Wildlife is never far away and can sometimes be found on the course next to you trying to cadge a bit of banana as you study a shot!  Let's just say, a round of golf at any one of these amazing golf courses is memorable for more than the score on your card!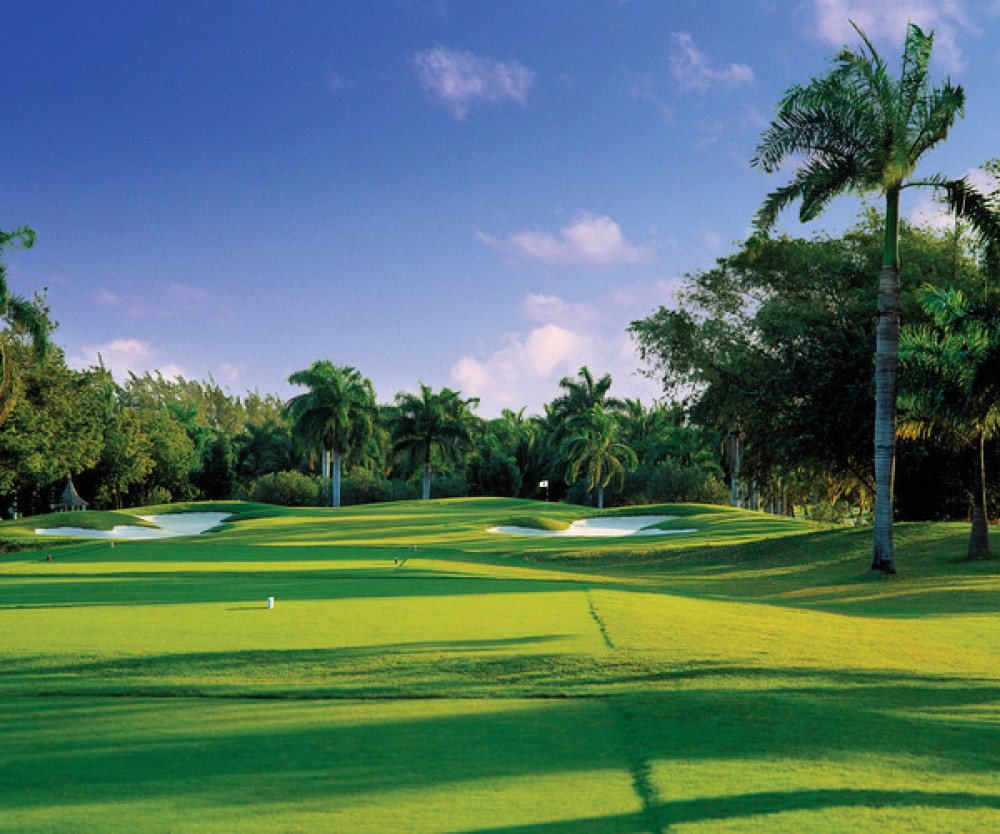 The Courses … in no Particular Order
Any keen golfer will tell you that the most important element of a golf holiday is first of all top quality courses.  Second, is that the courses need to be a bit challenging.  Third, is that a golf group needs a few courses within easy distance of each other to keep the trip interesting and finally (and certainly of most importance) there needs to be really excellent accommodation suited to the golf traveller with access to enjoyable dining and nightlife. 
It's a tall order for most destinations.  I can confidently state, as I live in Ireland, that in this little corner of the world we can tick most of those boxes except in one key area.  Weather.  That's why the sunny shores of Barbados are so attractive to the keen sportsman or woman.  Barbados golf can offer absolutely everything including a wonderful climate that allows golf all year round.
Barbados Golf Club
Barbados, like so many other Commonwealth Nations, is divided into parishes.  A reminder of its very British past.  In the heart of the southern parish of Christ Church lies the very lovely Barbados Golf Club.  The Club has been in existence for decades and underwent a major revamp in 2000 when the well-respected golf course architect Ron Kirby oversaw some significant environmentally sensitive adjustments to the course.  This lovely course has hosted the Barbados Open on a number of occasions as well as being sanctioned by the PGA European Tour to host a PGA Seniors Tournament in 2003.
With beautiful lakes, lush vegetation and open fairways, this course is designed to give even a struggling beginner an opportunity to get a decent round while building up some skills on a few of its trickier aspects. 
The Club House has a lovely colonial vibe and the restaurant and bar offer both an indoor and outdoor setting where you can unwind after a stimulating round of golf.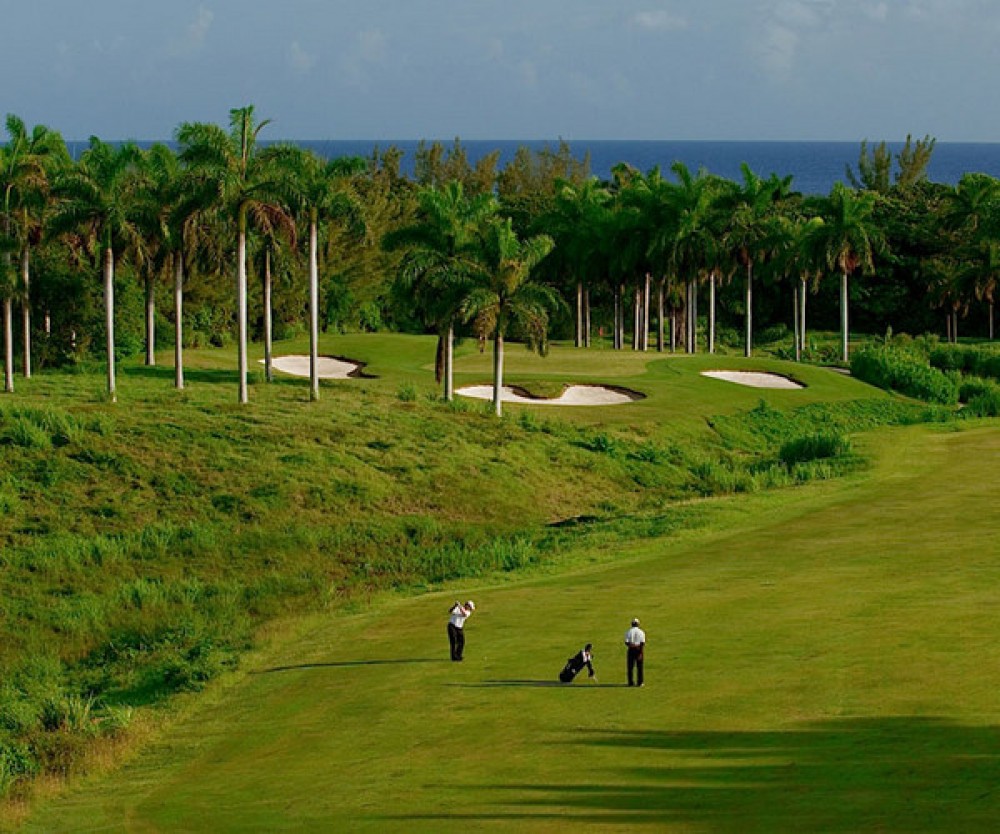 Royal Westmoreland
Robert Trent Jones Jr applied all of his skill in capturing the natural beauty of Barbados within the bounds of this fabulous course.  Again, the scenery takes centre stage as you head out to pit your wits against the cleverly designed greens.  The course is demanding but certainly allows players with a good set of skills to feel exhilarated by getting around on par.  There are a good combination of short holes and what is described as a challenging back nine.  You certainly won't feel underwhelmed by the golf on what is one of Barbados's historic courses.
Located within a private estate, Royal Westmoreland offers an exclusive experience for golfers who might be staying at one of the Barbados Golf Club villas within the estate or visiting as approved guests.  The low-level colonial style Club House is the natural place to enjoy a fabulous lunch or dinner.  It commands a view over the perfectly maintained course.  You will marvel at the views of Barbados as you enjoy your time at this wonderful club.
If you are stating at Royal Westmoreland we would recommend our Villa Tom Tom or Cherry Red.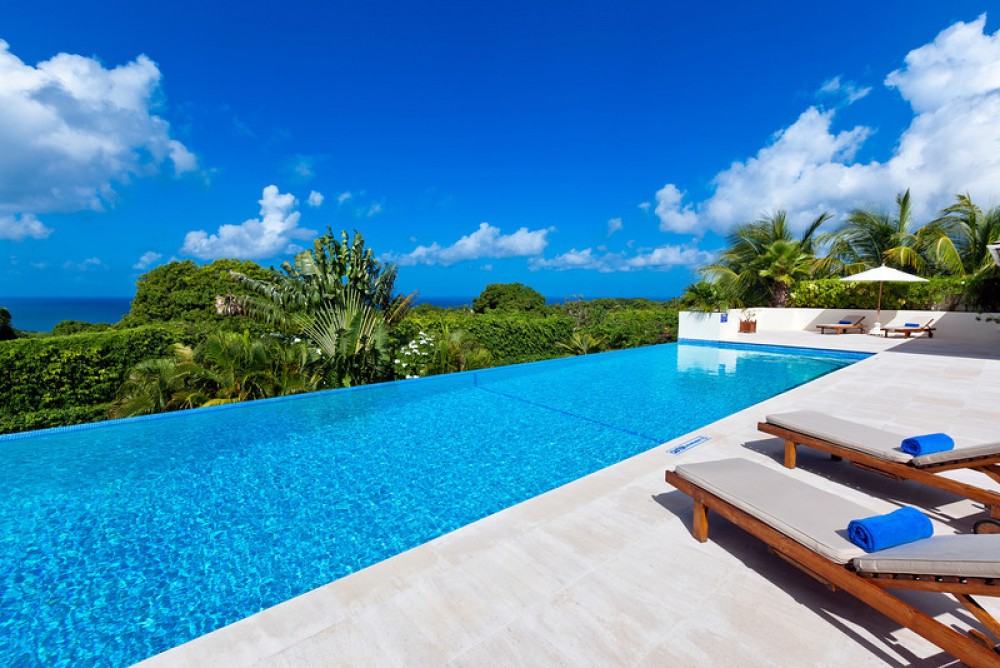 Apes Hill
Another one of the Barbados golf resorts is Apes Hill.  This self-contained resort that opened its doors in 2009 has the good fortune to inhabit a part of Barbados that offers both Atlantic and Caribbean coast access.  The golf course, like other Bajan courses, makes excellent use of the naturally flowing terrain with ravines, lakes and lush shrubbery.  At an altitude of 1,000 feet above sea level, the location seems to capture a few of the balmy breezes that pass across this beautiful island.  Apes Hill is considered a country club, offering tennis and polo in addition to the 18-hole course.  There is a club house that offers an early dinner, lunch or refreshing beverages.
Considered a challenging round for the experienced golfer, it is well worth putting this course on your golf itinerary when visiting Barbados.
Green Monkey
This prestigious course that is the last word in style and substance was designed by the supremely talented Tom Fazio.  This spectacular course that is part of the world famous Sandy Lane Resort presents a visually arresting experience for golfers.  The immaculate finish of the greens, the flow of the fairways, every natural element harnessed to illicit another gasp of wonder as you move onto the next hole.  The Green Monkey Golf Club is believe to be the most expensive golf course development in the world to date.  You won't need to be convinced of this as you experience the heavenly service and facilities at this venue. 
The old limestone quarry that is the foundation for this course, contains dramatic rock faces, rolling green fairways, lakes and brilliant sand-traps.  It's pretty difficult to keep your concentration as you are swept up in the grandeur and majesty that is this course. 
The club house is a luxurious and relaxing place to dine pre or post golf.  The service is so friendly and seamless, it is always noted on reviews.  The Pro Shop is a golfer's dream with lots of branded golf and leisurewear available.  For example, items from the Greg Norman range, Bobby Jones as well as Bugatchi and the exclusive Green Monkey logo apparel.  You can also pick up some lovely pieces in the Sandy Lane Pink – the perfect memento for the lucky guests to this wonderful resort.
Sandy Lane Golf Course
Featuring a 450 yard driving range, The Country Club course of Sandy Lane's resort is the older sister to The Green Monkey course.  It is a challenging course and perhaps the more interesting if you are a pure golfer.  The views and landscaping of the course are beautiful and even if it hasn't the complete bling factor of The Green Monkey course, it has everything that makes a club great, in its own right.  Again the Club House is a wonderful place to unwind and enjoy the atmosphere that makes Sandy Lane the epitome of luxurious relaxation.
The golf carts included in the green fees at any of the Sandy Lane golf courses feature a GPS system that gives you key information about where you are on the courses, any hazards ahead, position of bunkers.  The sophisticated technology will also give you tips on how to play the hole as well as ordering refreshments.  You are obliged to take a caddy out with you and once you've completed a round with one of the legendary caddies, you'll be glad you did.  They have accompanied some of the crème de la crème of golfers and VIPs over the years but to them, everyone gets the star treatment.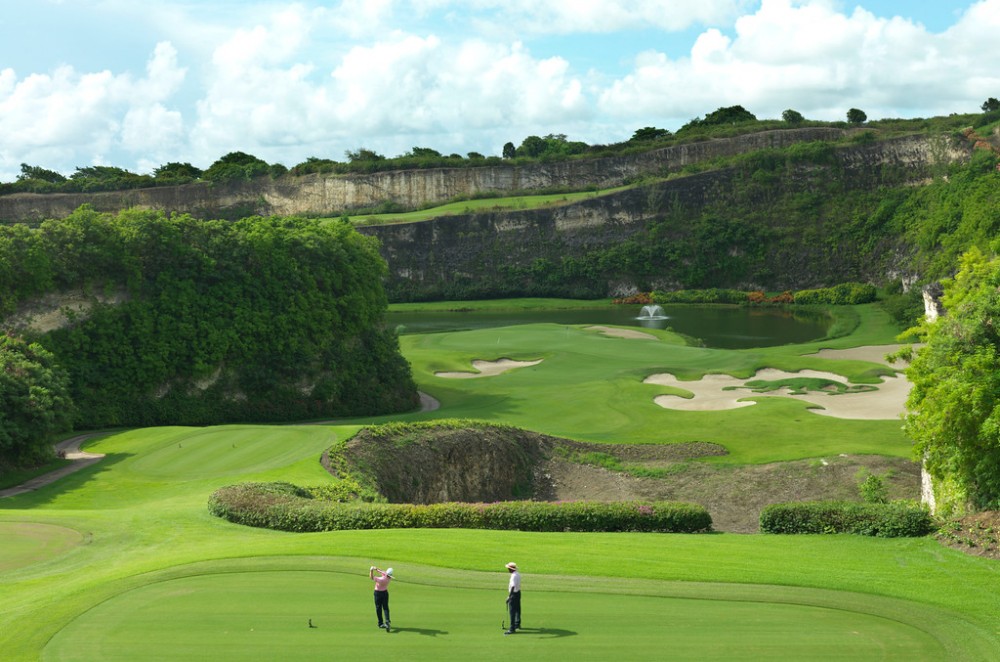 Villas in Barbados
If you are a group of golfers who want the ultimate golf getaway, Barbados is designed for you.  At Exceptional Villas we have decades of experience bringing people to Barbados and we understand how to match you with the most suitable villas to suit your vacation needs.  For example, it's key to have a spacious and open layout that makes it easy for golfers to store golf clubs and equipment.  Easy access to the key courses is vital as are organised tee-times and air-conditioned transport to whisk you from villa to course and back again.
At Exceptional Villas we can co-ordinate all of this for you as well as booking a chef service in some of our villas that allow you to dine at leisure after a long day out and about chasing the little white ball!  What's better than a refreshing swim in you private pool followed by a refreshing pre-dinner drink on your terrace.  The key to the perfect golf holiday is the ideal balance of sport and socialising.  With a raft of fun experiences from sailing to snorkelling and big game fishing, the island of Barbados is a treasure trove of fun activities to entertain in between days of golf.
The night life is a lively mix of vibrant bars that offer some excellent local beers and ales produced by the Banks Brewery.  If your taste turns to some top-notch rums, then Mount Gay distillery located in Barbados produces some of the finest rums in the world. 
The history of Barbados weaves a long pathway from the native Ameridian Indians, through Columbus's arrival, the establishment of the first English colony many centuries ago.  Through years of sugar plantations, slavery, abolition and finally the last step in the evolution of Barbados in 1966 when it emerged as an independent nation within the Commonwealth.  All of these chapters in the history of this unique island have added their flavour to what you will see, taste and experience during a visit to this Caribbean idyll.  There is a wealth of colonial architecture to be enjoyed in UNESCO protected Bridgetown as well as the incredible St Nicholas's Abbey – dating from the 1600 - one of the oldest and best preserved buildings you will find anywhere in the Caribbean. 
Its nearest neighbours might be St Lucia and Grenada but it is very much its own island.  Its picture-postcard prettiness of palm trees fringing along the whitest and softest of sands.  The turquoise Atlantic and Caribbean, stretching invitingly.  The lush tropical greenery of the islands interior.  It is beautiful at every turn. 
There are a profusion of stylish restaurants with jaw-dropping views, where you can dine under the stars in romantic splendour.  You will have to try some Cou Cou ranked No.3 as a National Dish by National Geographic.  It is a heady mix of cornmeal and okra served hot, with some crispy fried flying fish and a spicy gravy.  It really is far more delicious than that might sound.  You cannot visit Barbados without trying some.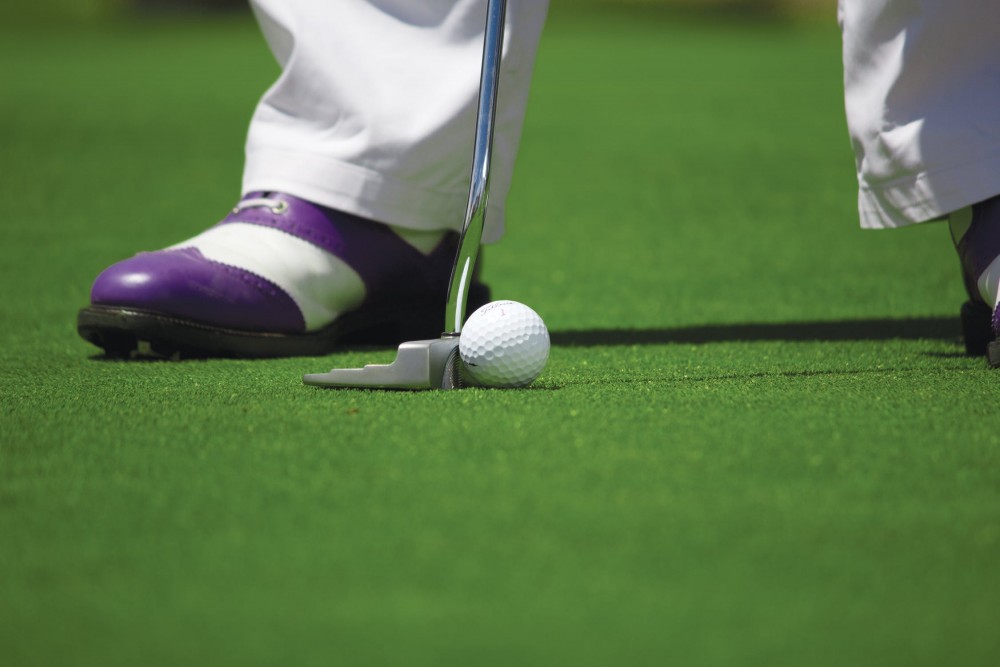 … and a final note ….
…. to all you golf widows out there who get whisked off to Barbados.  In between unwinding in sumptuous luxury in one of our amazing golf villas Barbados has to offer, why not indulge in a day of spectacular duty free shopping.  Any shopaholic will be delighted to find a broad range of some of the world's best brands like Armani, Louis Vuitton, Ralph Lauren, Bulgari, Cartier in the Limegrove Lifestyle Centre in Holetown.  Alternatively, you can seek out the hot labels like Billabong, Reef, Quiksilver, Givenchy, Tommy Hilfiger and Mac in Cave Shepherd in Bridgetown.  All you need is to show your passport and your airline booking to make your purchases tax free.  Go ahead, spoil yourself!
Last but not least …
Did I mention the weather?  Well, it's sublime all year round.  The island of Barbados is lucky to be positioned outside of the infamous hurricane alley.  It's rare to find a day when you won't be able to get out onto a golf course and unleash the tiger within.
Although you might think you are visiting Barbados for the golf, I am pretty sure you will be seduced by more than the charms of the fairways.  Barbados is a laid back vacationer's paradise.  Visitors to its clement shores return many times.  Where better to work on your handicap by day and your knowledge of aged rums under a star lit sky by night?  Barbados is a heady mix of old and new.  What are you waiting for?