For newly-weds, few destinations excite the imagination like the Caribbean.  It's no surprise to read that the Barbados honeymoon is at the top of the list of the most sublimely romantic places for newly minted Mr and Mrs to stay.  And why is this, you might ask?  Well, it has just about every aspect of the perfect getaway covered – gorgeous beaches, heavenly weather, luxurious accommodations, private villas that are a paradise within a paradise, action-packed adventures, moonlit picnics – and all within a very manageable direct flight from the continental USA or from Europe.
I myself may not have skipped down the aisle, unless the wine aisle in my local supermarket counts, but let me assure you, I've had years of experience working out what it is that makes the perfect honeymoon … and a honeymoon in Barbados ticks all of the boxes.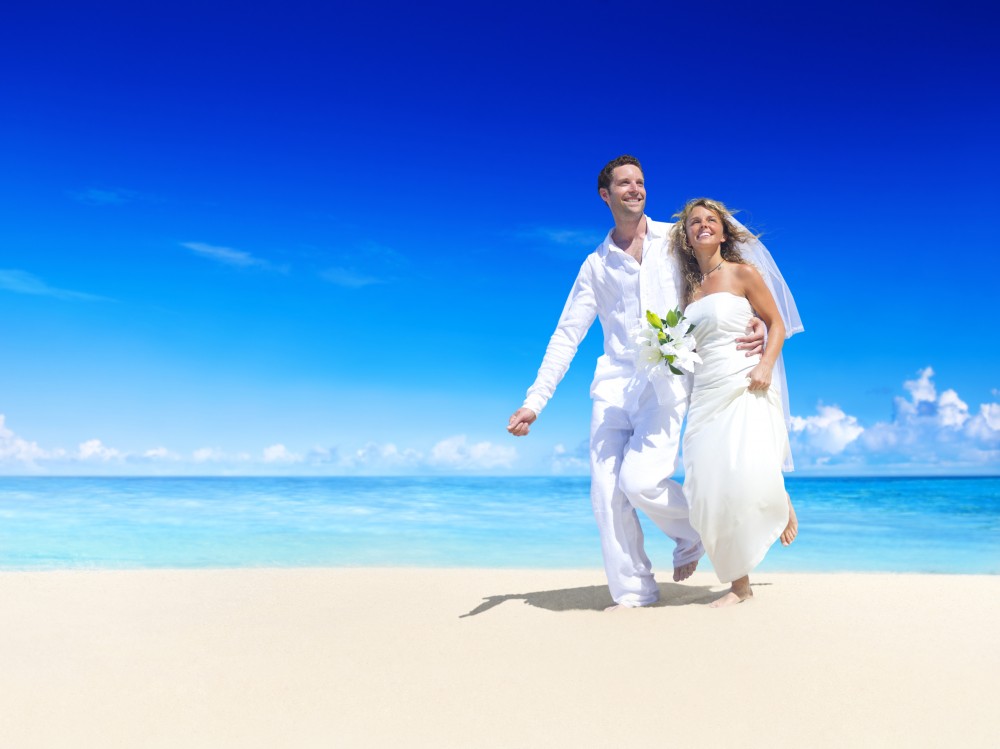 So let's get started.
Barbados Weddings
Before we put the cart before the horse, let's take a quick meander through the labyrinth that is the wedding.  You may be one of those super organized couples – you know, the ones who run their lives along very structured lines – personal trainers at dawn followed by meditation — perfectly curated lives that allow you to squeeze the last drop of perfection out of each day.  Well, newsflash, even if you are one of these turbocharged couples, you will have been completely side-swiped by the insanity of organizing your wedding.  What you will have discovered in the process of creating your dream wedding is that it is very easy to manage your life and agenda as master and mistress of your own destiny.  But the moment you have to include the additional human elements (let's just call them family) into the matrix you will be overwhelmed by irrational view-points and interferences that seem determined to undermine what should be the happiest day of your lives.
Please don't get me wrong, the drama-infused cocktail that's the lead up to any wedding always resolves itself on your big day.  But after all of this heady juggling of blended family seating plans, guest lists, menus, dress-fittings, last minute hiccups etc. what any happy couple craves most is an escape plan.  These escape plans are called honeymoons!
This trip involves getting as far away as possible from everyone we know.  It involves decompressing in a hammock, with a chilled rum punch.  It involves delicious foods consumed without concern about a wedding dress fitting.  It involves hours drifting in and out of consciousness, lulled by the sound of the sea.  It involves waking at dawn to walk across a strip of white pristine sand and diving into a turquoise ocean.  It involves adventures and sport - golf, zip-lining, diving, sailing, snorkelling around reefs.  It involves struggling to decide what amazing spa treatment you will indulge in.  This is exactly why Barbados honeymoon holidays are the epitome of what you desire.  It has all of these experiences waiting for you and so much more too.
Where is Barbados?
This amazing island is the easternmost island of the Lesser Antilles.  At 167 square miles, it is an island that offers diverse terrain, miles of gorgeous coastlines, historic colonial towns, a culturally diverse nation.  Technically, it is located in the Atlantic but really embodies everything we've come to consider the Caribbean.
One of the very great advantages that Barbados has over its neighboring islands is that it sits outside the infamous hurricane alley.  The tricky and sometimes devastating weather fronts that assault many of the Caribbean islands sweep right past the serene shores of Barbados.  On top of all this great good fortune, is the islands 'personality'.  It's just so laid back!  This island is a member of the British Commonwealth and an independent island state since 1966.  It is an English speaking island that has mastered the art of welcoming tourists for decades. 
Barbados Resorts
Two fabulous Barbados resorts that offer the complete honeymoon package are St Peters Bay and its sister property Port Ferdinand.
The purpose-built St Peters Bay resort offers honeymoon guests an opportunity to avail of the Romance Package that includes airport transfers, champagne breakfast, complimentary access to the pools, beach, gym, WIFI and a beautiful candlelit dinner on the beach.  The spacious accommodation, the luxurious furnishings, the views, all combine to offer you the perfect backdrop for a completely care-free vacation.  These resorts have world-class chefs who present the most delicious meals to guests.  Gorgeous local fruits and vegetables feature on every menu.  The ratio of staff to guests ensures that there is always someone a mere moment away ready to fulfill your every whim.
A short hop on the complimentary water taxi and you can visit Port Ferdinand with its own Marina.  This sister resort of St Peters Bay has luxurious condos and apartments, with incredible views over the marina and pool areas.  With the opportunity to visit either property and enjoy the facilities of both, it means that you essentially get two resorts for the price of one!
The location near to Holetown and Speightstown means that you can enjoy day trips and take in some shopping with ease from either St Peters Bay or Port Ferdinand.
Private Villas
Sometimes after the hub-bub of the big family wedding, a quiet and private base from which to enjoy your honeymoon seems the right answer.  I've curated a list of some of the very exclusive and unique honeymoon villas in Barbados that provide incredible facilities in spectacular locations.
Lone Star Cadillac Penthouse
Located right on the beach of Alleynes Bay, this stunning property offers a lucky couple a four-poster bedroom, a terrace that overlooks the gorgeous beach, marble bathroom.  This unique property sits above the renowned Lone Star restaurant and bar that attract guests from all over the island.  You can enjoy room service from this incredible kitchen or just simply slip on your lovely resort wear and join the fun downstairs.  At a mere 2 miles from Holetown, there is plenty to see and do from this fabulous location.  You will certainly feel very well-cared for by the property manager.  It is bespoke honeymoon experience and ideal for the couple who like to step away from the crowd.
Reeds House 9 Barbados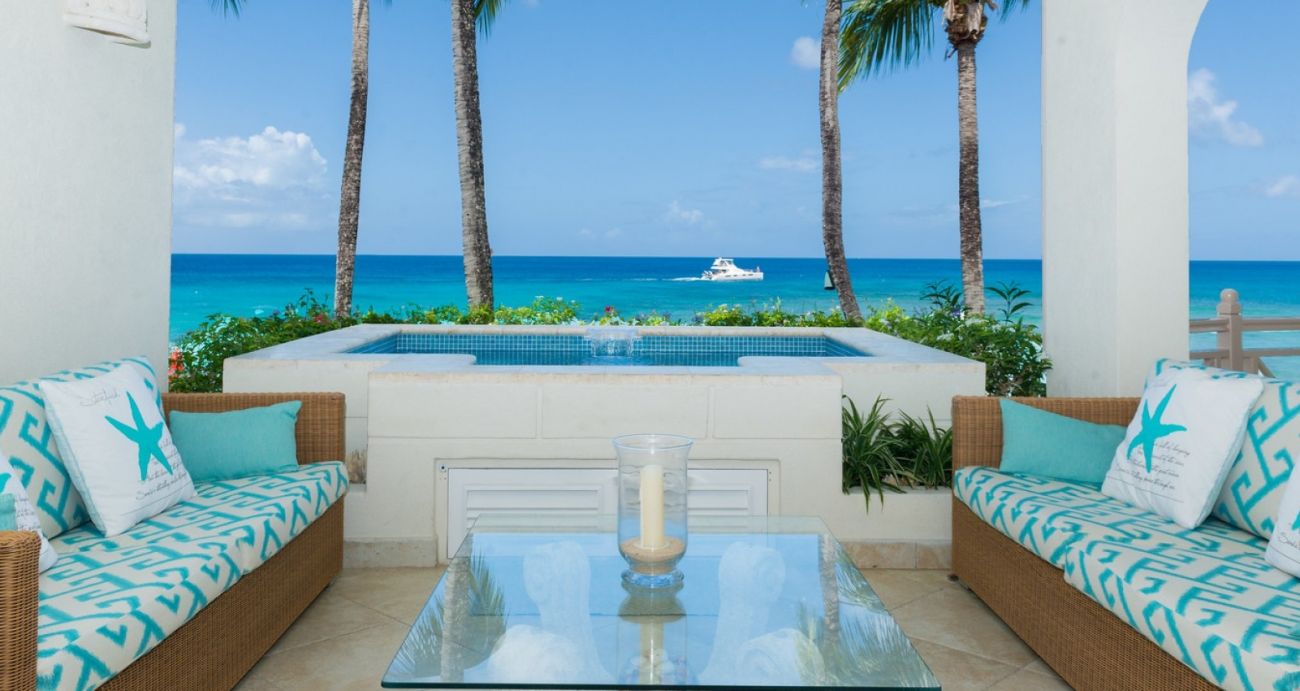 This wonderful beach-front development offers gorgeous newly-refurbished self-contained villas overlooking the stunning Reeds Bay.  No.9 is a two-bedroomed, staffed villa that has its own private plunge pool with unrivaled views over the ocean.  This very attractive low-level development gives couples an opportunity to shut out the world and simply enjoy a quiet and restoring vacation.  With two meals per day prepared by the talented villa staff and enjoyed on your private terrace, you can stay in your swim-suit from morning till evening perhaps only emerging for dinner at one of the nearby restaurants.  With water-sports, tennis, golf, fishing, and shopping easily accessible from Reeds House, you have everything you need waiting for you.
Bora Bora Lower, Paynes Bay Beach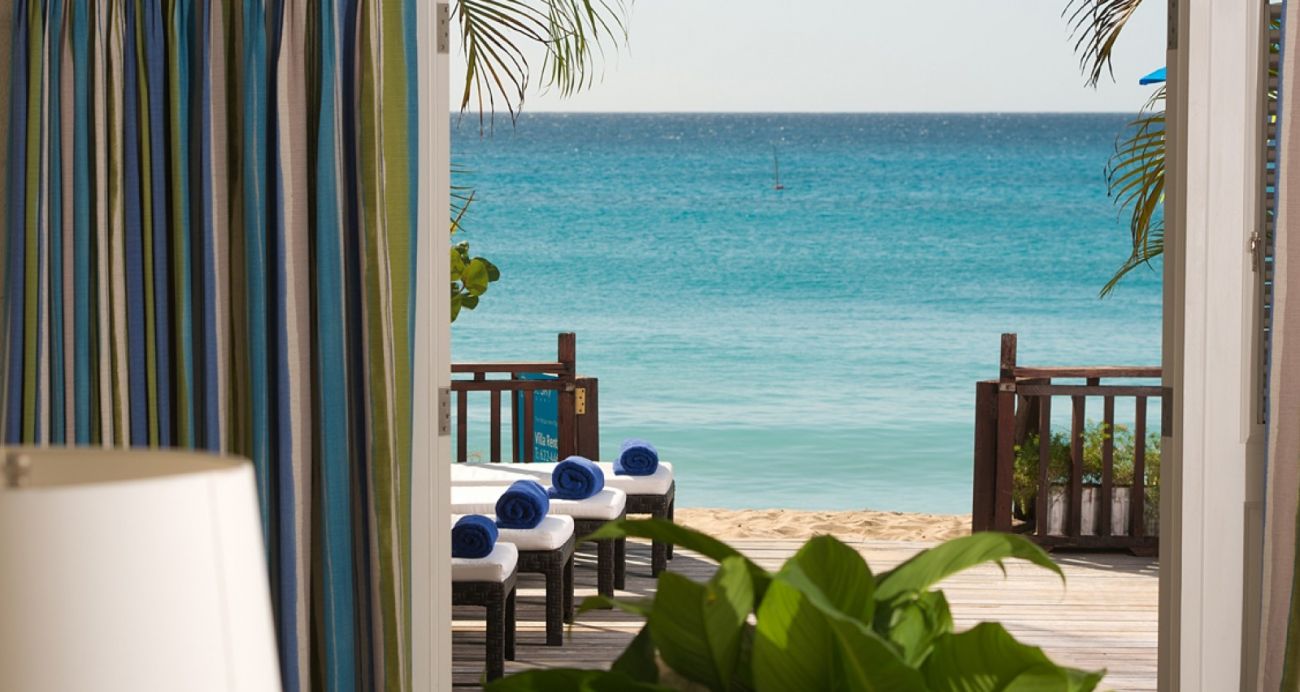 This ground floor 2-bedroomed villa with private beach access sits right on Paynes Beach – one of the very loveliest beaches in Barbados.  Spectacular sunsets are a key feature of this villa that offers very attractive accommodations for couples looking for the perfect honeymoon to Barbados.  The creamy interior offset with vibrant blues and tropical greens creates a fresh and fabulous backdrop for your perfect castaway experience.  Each morning can start with a short stroll to the calm turquoise waters of the Caribbean where you can embrace the day with a lovely swim.  Returning to Bora Bora Lower villa, you can breakfast on delicious local fruits and a gorgeous coffee or smoothie before taking on the challenging day of pure fun and frolics!
Senderlea
If you want to stay in a gorgeous colonial-style Caribbean cottage then Senderlea, a 2-bedroomed spacious villa offers you exactly this experience.  With a private pool, an outdoor Jacuzzi and pretty paved steps to the sublime beach, this property is the private honeymoon experience you've been dreaming of.  The palm tree-shaded terrace is located above the beach and is wonderfully private.  Your staff will prepare your breakfast, lunch and dinner, so each day is designed to have nothing more challenging than the task of exploring the surrounding area, swimming, sunbathing and relaxing.  At a location halfway between Speightstown and Bridgetown and on the coast just south of Sandy Lane, this villa cottage offers excellent access to so much Barbados has to offer while being tucked away in its own private corner of paradise.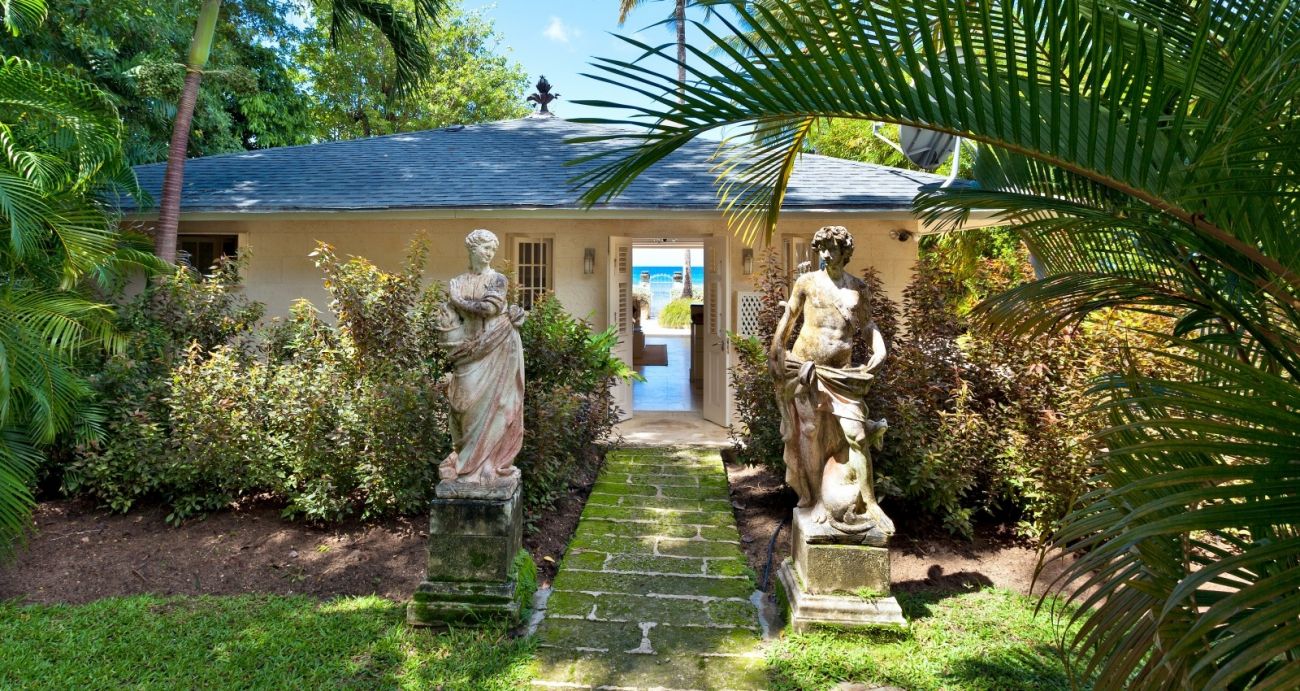 This most attractive one-bedroomed self-contained villa, part of the Leamington Estate and next to the Cobblers Cove Hotel, is the ideal destination for the honeymoon couple looking for that private and romantic experience. 
The luxurious light-filled interior, the sunny terrace and plunge pool, private access to the beach all combine to create a jewel-like home from which to design days filled with perfect adventures.  Whether you want to simply hang out and unwind from the hectic chaos of wedding planning or get out and explore the reef just off-shore, there are myriad options available.  The old-world charm of Barbados is a short distance away to be explored in Speightstown.  With a housekeeper/cook at your disposal and your own BBQ, you can enjoy leisurely lunches al-fresco or dine by candlelight under the stars. 
Schooner Bay 401, Godings Bay
This is a modern, luxurious 2-bedroomed condo overlooking the spectacular Godings Bay.  This beach-front development offers gorgeous accommodations with views over the pool, gardens and ocean.  The gated development has a communal gym and lush tropical gardens.  The nearby Cobblers Cove Hotel can arrange water sports for you, and there are a number of fabulous restaurants for you to explore during your honeymoon.  The condo has its own fully-fitted modern kitchen so you can prepare meals and snacks as necessary allowing you to decompress in perfect solitude in your own delightful haven.
Each one of these featured villas is represented by us at Villas Barbados.  We've been in the business of creating dream holidays for honeymooners and vacationers for decades.  Barbados has been one of the destinations that have been longest on our books as it offers the full complement of beauty and grace that is the hallmark of memorable holidays.
We delight in arranging each detail of your trip so that it meets and exceeds your desires.  From the moment you contact Villas Barbados, our experienced team will work tirelessly to ensure you have a care-free and romantic experience.  A carefully structured honeymoon experience that doesn't feel structured at all will let you kick off your shoes along with all the stresses of pre-wedding insanity, and start off your married life in a special and bespoke way. 
Conclusion
As you can see, there is more than one best place to honeymoon in Barbados.  The entire island is designed to create the perfect atmosphere for relaxation and enjoyment that's a cornerstone of any honeymoon.  There are so many gorgeous villas that provide a secluded setting in lush gardens with to-die-for views that allow you to curl up together and watch the sun slip beneath the horizon.  Long, lazy walks along white sandy beaches that curve serenely along the turquoise and brilliantly blue waters of the Caribbean.  Leisurely lunches and rum punches.  Paddle-boarding and snorkeling.  Sun-bathing, reading under a shading palm tree.  It is everything you've dreamed of and much more. 
Honeymooners simply love Barbados.  It is the island that offers the perfect setting for couples to take their first romantic steps together along love's highway.  It is often the destination of choice for the honeymooners of earlier decades who return to rekindle the romantic spark and relive the heady first weeks of marriage.
It is said a honeymoon is the trip of a lifetime.  Whether you are that young couple or a more mature duo who are hopping on the matrimonial merry-go-round for the second (or more) time, do let Barbados woo you and cherish you with its warmth and charm.  Your love affair with this incredible island will certainly last a lifetime!
Mairead Moriarty - Author
Born and raised in Co Kerry, lived in London, New York, San Francisco, Dublin. Owner of one very battered suitcase, a well-worn passport and a million memories. It seems very fitting for a travel writer that my surname translates as 'Skilled Navigator'. Apart from an occasion when, aged 3, I got lost in a Supermarket in Tralee, I have managed to live up to my name! Curiosity is probably the driver that has sent me on magical mystery tours around the world. I want to 'feel' a place. I want all my senses to be engaged: from the history and geography that has influenced a country or city, the arts and achievements of its natives, anything and everything really. Regardless of whether I am on a local train travelling through Morocco, or poking around in Marconi's study in Bologna or on a canal boat weaving through the heart of the English countryside, the same rules apply - ask questions, talk to locals, eat what they eat, sit quietly with nature and simply be. Assimilate as much as is possible so as to understand the soul of a place. That is my passion. That is the compass by which I navigate.